Funding level of Dutch schemes rises to 108.4%
Written by Tineke de Vries
03/08/18
The policy coverage ratio of Dutch pension funds increased by 0.6% to 108.4% during the second quarter of 2018, according to new figures by De Nederlandsche Bank.

The actual coverage ratio, based on market information, rose by 0.8% from 107.5% to 108.3%.

The financial position of pension schemes improved because the positive developments in the equity and FX markets were outweighed the decrease in interest rates. The MSCI World index increased by 2.9% and the Dow Jones by 0.7%. However, the interest rate structure decreased during the second quarter of this year by 2-11bps.

Pension funds' liabilities grew during the second quarter from €1,242bn to €1,258bn, while assets grew from €1,336bn to €1,363bn.

The number of pension schemes with a policy coverage ratio (the average coverage ratio of the past 12 months) below the legally required minimum of 104.2% fell from 54 to 42 funds. The majority of schemes, 130 pension funds in total, have a policy coverage ratio above 110%. These pension funds will be able to provide full or partial indexation to their members. These schemes have a combined membership of 1.4 million active, 1.1 million pensioners and 3 million deferred members.

The number of schemes with a policy coverage ratio between 100% and 104.2% is lower than the number of schemes that have a funding level above 110%, but because it includes some of the larger schemes, most members fall into this category. A total of 3.2 million active, 1.9 million pensioners and 4.1 million deferred members are part of a pension fund with a policy coverage ratio between 100% and 104.2%.
Related Articles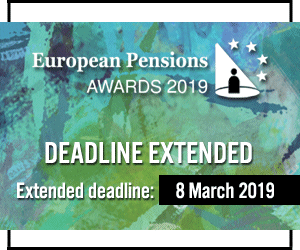 Latest News Headlines
Most read stories...
World Markets
(15 minute+ time delay)