Danish Velliv grows by 8% in Q1
Written by Sunniva Kolostyak
15/05/2019
Danish pensions and insurance provider Velliv has seen record payments of DKK 4.8bn in the first quarter of 2019 and an investment return of DKK 10.1bn.

The increase corresponds with an 8.0 per cent increase compared with the same quarter in 2018. The current payments have increased by 9.1 per cent while deposits grew by 6.8 per cent compared with Q1 2018.

The growth in payments is according to Velliv the result of new customers coming in and existing customer relationships being continuously extended.

"Velliv has come well from the start in 2019 when the payments have again set a record. Many companies choose Velliv as a new pension provider, and our existing customers choose to extend the cooperation.

Velliv CEO Steen Michael Erichsen commented: "This reflects that Velliv is strong in the pension market and that we have an attractive value offering, with three sources of return, based on an investment return at the top of the market, an interest rate of 5 per cent on DinKapital, and bonus from Velliv Foreningen. Furthermore, we have further strengthened personal advice, which is both our strategic point of view and in tune with our customers' wishes."

"We deliver strong returns to our customers and profitable operations in line with our strategy. It directly benefits the customers in the form of a bonus from Velliv Foreningen."

Velliv's profit after tax was DKK 134m in Q1 2019, up from DKK 101m in Q1 2018. The return of the VækstPension funds were both very positive, with VækstPension Index returning 10.4 per cent and VækstPension Aktiv 8.4 per cent.

The Velliv Foreningen has also increased its ownership in Velliv, from 70 to 81 per cent and is therefore paying customers DKK 204m in Mat as a cash bonus.
Related Articles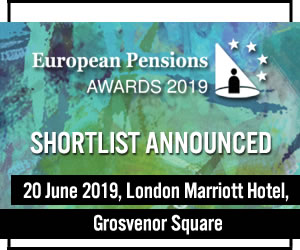 Latest News Headlines
Most read stories...
World Markets
(15 minute+ time delay)