Appointments update 21 September 2018
Written by Sunniva Kolostyak
21/09/2018
- The European Fund and Asset Management Association (EFAMA) has appointed Tanguy van de Werve as its new Director General.

At EFAMA, van de Werve will be responsible for the strategic agenda and for leading the Brussels secretariat. He has previously worked as managing director and head of the Brussels office for the Association for Financial Markets in Europe (AFME), director general of Eurofinas & Leaseurope, management committee member of the European Banking Federation and has lead several advocacy campaigns for industry bodies.

- Ole Krogh Petersen will become the CEO of Danish Danica Pension on 1 October after working for the fund as COO.

Petersen will take over for Per Klitgård who has decided to step down after seven years. Klitgård will continue his work on the SEB Pension merger until the end of the year, after which he will join the board. Søren Lockwood will be promoted to deputy CEO.

- PensionsEurope's Secretary General and CEO Matti Leppälä has been appointed to High-Level Group of Experts on Pensions, a new establishment by the European Commisson.

The group will provide policy advice to the commission on ways of improving the provision, safety through prudential rules, intergenerational balance, adequacy and sustainability of supplementary (occupational and personal) pensions. Leppälä and the other experts will prepare a report providing analysis and policy advice.

- Lars-Åke Vikberg has been chosen as the newest member of the Swedish pension organisation Tjänestepensionsförbundet's board.

Vikberg is the CEO of member fund SPK and is replacing Peter Hansson, the former CEO of SPK who stepped down in May. Kjell Norling was re-elected as chair and Marie Hagstedt was re-elected as member of the board.

- IFM Investors has appointed Irini Kalamakis and Phelim Bolger, as head and director of EMEA, Global Relationship Group.

Kalamakis, who joined IFM's institutional sector in December 2017, will be responsible for leading investor relations in EMEA, including driving the fundraising, client servicing and product development outcomes in the region. Bolger will focus on expanding the firm's profile with UK and Irish investors. He joins from Ardian and has over 18 years of experience.

- Neuberger Berman has announced it is hiring six investment professionals for European fixed income capabilities to be based in Paris. All six joins from BNP Paribas Asset Management.

Patrick Barbe has 30 years' experience and was recently the Chief Investment Officer of Euro Sovereign & Aggregate Fixed Income at BNP Paribas. Portfolio managers Yanick Loirat, Vito Cavaliere, Antonio Serpico, and Sergejs Prala, and quantitative analyst Leang You Tran are also joining him.

- Danish PKA has hired Dewi Dylander to work as deputy director and head of a new department focusing on responsible investments.

Dylander, a lawyer, has previously worked as legal director of ATP pension fund, office manager at the Danish FSA and as office manager and chief negotiator for the Ministry of Climate Energy and Building. She also led climate negotiations for the Danish COP delegation and worked for the Ministry of Foreign Affairs.

- Peter Branner has been appointed CIO of Dutch APG Asset Management and will start 1 September He will be responsible for the overall investment operations.

In his new position Branner is looking to optimise sustainable and long-term returns. He has over 25 years of experience with investment and joins APG from Swedish SEB Investment Management where he served as CEO/CIO. Branner will report to APG Asset Management CEO Ronald Wuijster.

- Dutch Pensioenfonds ING has announced that Vandana Doekhie will take over the position as non-executive board member as Peggy Wilson leaves.

Doekhie has worked for the ING/NN group since 2011 and was appointed on behalf of the employees. She has been head of Request for Proposals since 2016. Wilson left the fund on 6 August when her four-year term ended.

- Industriens Pension has hired Kenneth Olsson, the former deputy director of ATP Ejendomme, as its real estate investment manager.

Olsson will join on 1 December after working for ATP since 2003, responsible for investments since 2010. For Industriens Pension he will be responsible for the growing Danish property portfolio.

- Psychologist Nikolai Cerisier Roitmann joins the board of the Danish psychology fund MP Pensions on behalf of the Danish Psychology Association.

Roitmann's responsibility will be to make sure the fund considers its social responsibilities and enhance the policy agenda, he said in a statement. He joins 9 other board members who have been elected for the positions.

- Danish fund LD has announced that Hans Arnum will join the board of directors after being appointed by the Minister of Employment.

He joined the organisation in April 2018 as director of Tryg Erhverv, leading the business development of Tryg's Danish business, implementing strategies focusing on sales channels and increased digitalisation. He has held various management positions at Nordea.

- Nest has confirmed that its chief financial officer Richard Lockwood will be joining the board as a trustee, effective 1 September.

Lockwood will take the role for five years and comes after Nest's board moved to a unitary board structure. He has been with Nest for four years and has 25 years of experience working in finance, following previous roles at the Home Retail Group PLC and BAA.
Related Articles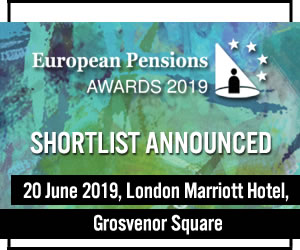 Latest News Headlines
Most read stories...
World Markets
(15 minute+ time delay)